TLR 086: horseback — impale golden horn LP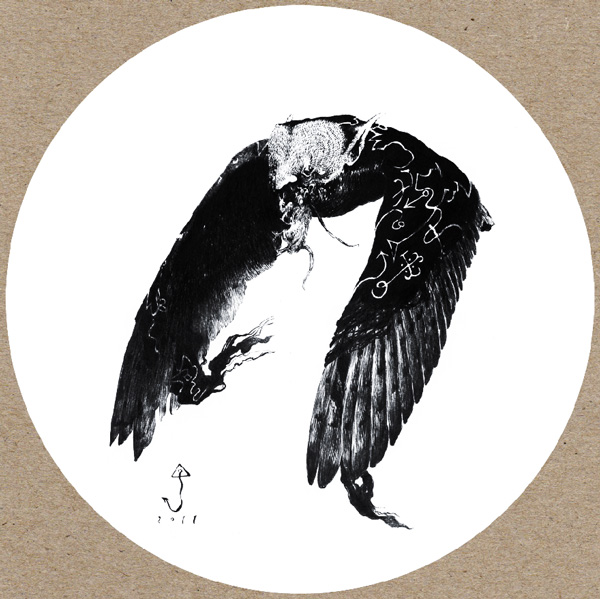 LP released october 16, 2012 in a limited edition of 649 hand-numbered copies. out of print from three lobed. limited copies still available from divide by zero records.
"this is healing music. maybe you know that already. if you've read much of anything about horseback, you've likely encountered the fact of jenks miller's obsessive-compulsive disorder, and how through meticulous craftsmanship and sonic sculpting he used the project he'd call horseback as a sort of therapy. a 2007 feature in the pittsburgh city paper cut to the chase with the headline: 'horseback's obsessive-compulsive drones.'
until i heard impale golden horn upon its initial release, jenks was just a guy around town. i knew he was a musician, vaguely. and sometimes he sold me records at schoolkids in chapel hill. at the time, i was barely 20, gingerly toeing the boundaries of my own musical tastes, and dealing with mild but disruptive bouts of anxiety and depression. i didn't know about jenks or his unconventional therapy then, but the gentle, steadfast flow of his music worked wonders for me. in the summer of 2007, impale golden horn hardly only left my car's cd player to go in my walkman; it provided a score and a salve when sleep stood me up; it offered respite from toxic thoughts. even for a student of punk's short-fast-loud doctrine, the drawn-out, slow, understated current of horseback's debut was immediate and compelling, even if i couldn't quite articulate it. i'm not sure i can now.
heather mcentire, jenks' partner in the excellent country-rock band mount moriah, has said that jenks treats sound as language. in mount moriah, his guitar plays as in a duet with mcentire's voice and lyrics. impale golden horn often sounds like a conversation, between guitars that surge quietly, forcefully into each other; or between tumbling drums and elegant piano. i don't always understand the vocabulary, but the tone gives enough clues.
i've never asked jenks if his self-directed musical therapy worked, if he did, in fact, manage to find some comforting sense of order from his work. i never needed to ask. the music already answered."
--bryan reed--
this vinyl debut of impale golden horn is from an edition of 649 hand-numbered copies and was pressed on 140 gram dutch vinyl by record industry. the album is housed within a sleek silkscreened jacket featuring specially commissioned art from longtime horseback collaborator denis forkas kostromitin and also includes an insert with original work from karlynn holland. impale golden horn was mastered for this vinyl release by patrick klem. as a mild, brief break from tradition, this LP does *not* include a download coupon (due to licensing matters concerning other versions of this album). this record is a joint release between three lobed recordings and divide by zero records.
iä! shub-niggurath!